If you are on the Backbar Professional plan, you can add a tag to any of your items or recipes. Items can then be searched or filtered by tags when taking inventory or building orders. You can view reports grouped by the tags you create.
By default, Backbar groups reports by item type (wine, beer, spirit, other). But let's say for example that you want your reports separated for wine sold by the glass vs. bottle, want to separate beer on draft vs. bottles, and want to separate well liquor vs. premium liquor. You can tag your items for how you want them to be grouped in reports.
Two things to keep in mind about tags:
An item can only have one tag, since report totals wouldn't add up correctly if an item appeared in multiple groups
Any items that don't have a tag will be grouped together in an Unspecified group
Setting Up Tags
An item can be tagged from within the mobile app or the web application (backbar.app). In the web application, you can add a tag to an individual item or bulk add a tag to multiple items at one time. To add or edit the tag for one individual item, there is a Tag field on the Inventory Information tab. To add (or remove) a tag from multiple items at one time, use the bulk Actions button on the Inventory Items page after selecting the checkboxes of the items you want to tag like the animated image below.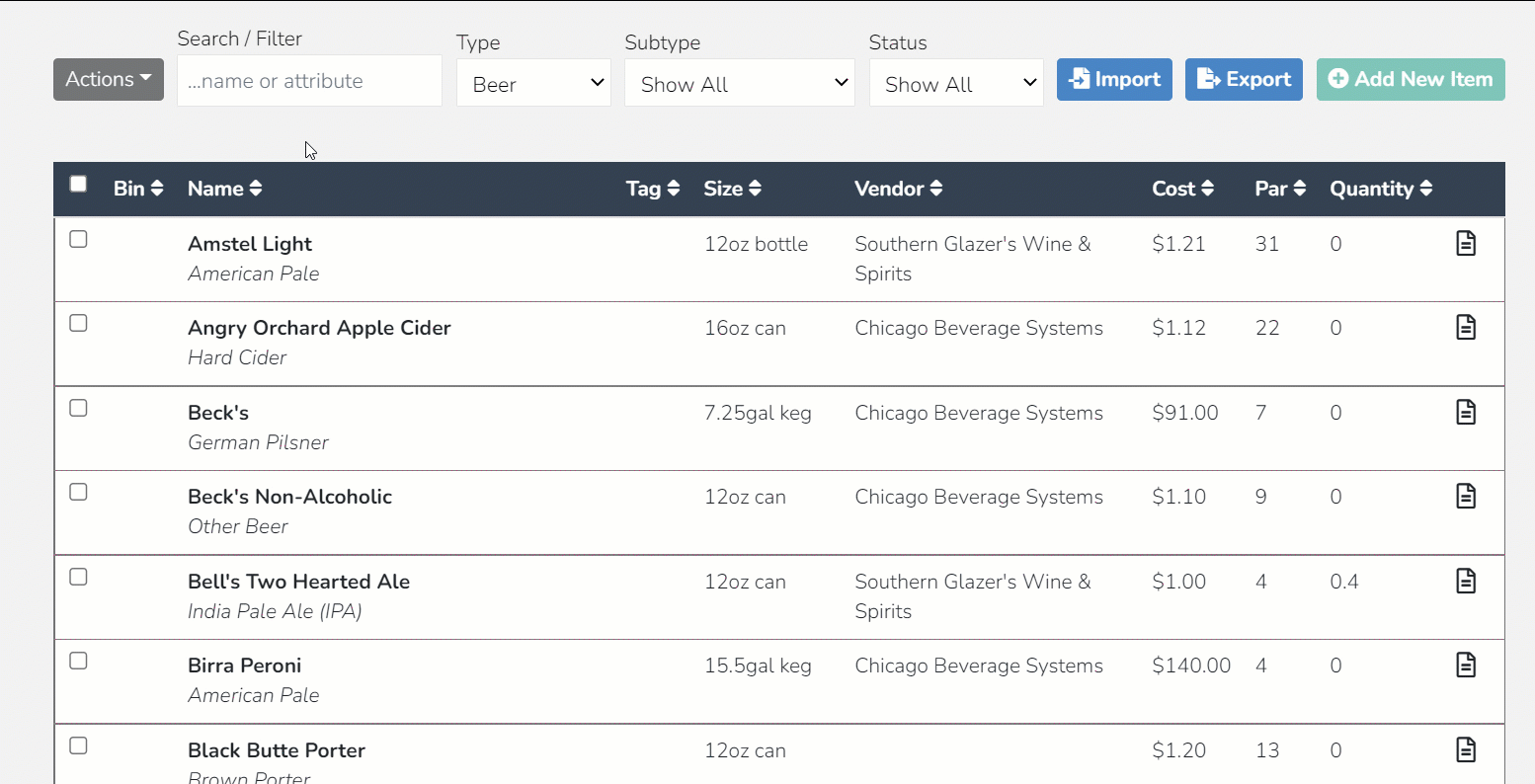 Searching and Filtering by Tags
Throughout the Backbar web and mobile app, you can search or filter by the tags you use when viewing inventory items, taking inventory or building orders. In the mobile app, use the filter icon in the top right corner to filter by a tag. In the web app, use the search box to type the name of the tag you wish to filter by.
Grouping Reports by Tags
On many of the inventory, order and sales reports you can change the default grouping from item Type to Tag. You will see a toggle switch in the top left of the report to switch the grouping of the report. When you export a report, it will export based on whatever grouping you have selected on the screen.