You will either be prompted to verify when initially signing up or by clicking on the "Unverified" banner on your Dashboard. The exact steps you see will depend on where and when you are trying to verify.
When you are signing up for your account, you will be asked to search for your business location which uses Google Maps data. After selecting and confirming your business information and address, we will show a list of businesses that we have data on from our sources. In most cases, only one business name will be shown and you can simply confirm that the business we display is the correct one. In a smaller number of cases, we may show a list of multiple businesses that Google Maps recognizes in the same location and you will need to select your specific business. If no businesses are shown for you to confirm, or the correct one isn't shown, we may not have data for your business from our supplier partners. Also note, verification is only for U.S. establishments that serve alcohol.

After choosing the right business, you will be asked to verify your account so that we can automatically connect to your suppliers and pull in your product information. In order to verify, you will need access to an invoice from one of your distributors from within the past 90 days (but not within the past 4 days). Select the distributor from the dropdown menu of distributors, enter in the date listed on the invoice and enter in the invoice number as it appears on the invoice.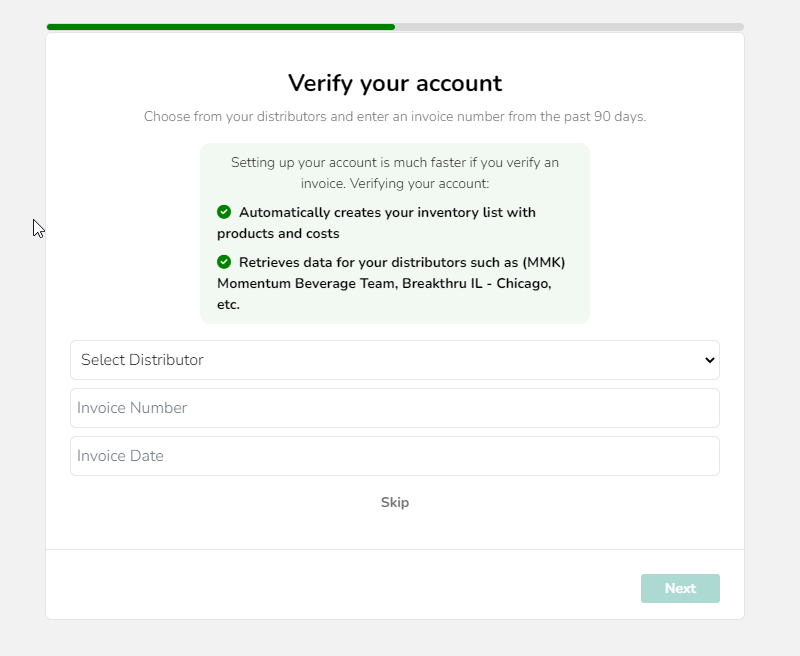 If the invoice verification is not successful, please try another invoice from the same or a different distributor. We do not always have complete invoice data from every supplier and sometimes there is a delay in the suppliers providing us invoice data. Invoices that are older than two weeks old are more likely to be successful than more recent ones. If after trying at least two different invoices you still have problems verifying, you can submit a help request and attach a picture of an invoice you have and we can do a manual verification on your account.