From the Sales Dashboard, click the green Continue button. Choose your POS system. Setup will be different depending on what system you use.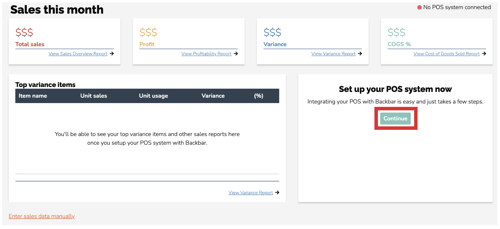 Choose your POS system. Connecting your POS system with Backbar will differ depending on which one you use. For example, if you use Square, you will have to click Authorize, which will prompt you to login into Square. For more information on integrating Square with Backbar, please read this article.
Once you have successfully connected your POS system to Backbar you will have to set your standard serving sizes and map your items. For more information on how to do so please read these articles:
How to set standard serving sizes
If your POS system doesn't integrate with Backbar yet, you can still enter your sales data manually by clicking Take me there or Enter sales data manually on the Sales Dashboard.