How to use the cocktail calculator
First, add your ingredients
Type in the products and items that make up your cocktail into the ingredients column. You can add up to 5 ingredients for a drink. Using less than 5 ingredients? Just leave the additional rows blank. You don't need to your ingredients when building your cocktail, but it will help you stay organized and quick see which products are too pricey and may need to be swapped out for a more cost-effective, profit driving cocktail.
Enter drink volume and cost per ounce
Add the number of ounces you're using each product and the cost per ounce, and the total for each ingredient will be tallied up and added to the final cost. If you need to find out the cost per ounce for your products, use our pour cost calculator.
Use the pour cost slider to see suggested menu prices
The last step is set your ideal pour cost percentage. Adjust the slider to set different pour cost percentages and see what you'd need to charge on your menu to hit your pour cost goals.
About Backbar - the free bar inventory app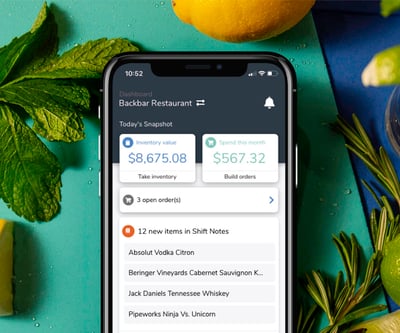 Backbar is a bar inventory platform for mobile and web. Make everyday tasks easier so you can spend less time crunching numbers and more time helping guests.
Here's a quick overview of how Backbar streamlines work:
Cut time taking inventory by 70% with our mobile app
Simple drink pricing helps you hit profit goals
Place orders with vendors in a single click
Track inventory performance for better oversight